"I just don't understand what happened" Kelsey said to Liza as they were checking out from their unsuccessful vacation in the Hampton's. Kelsey was well aware of the proposal happening but so unaware of the other messed up stuff going on like Liza's real age and that the proposal didn't happen because she made out with her boss. That's when it clicked for Liza too – Josh saw her lock lips with Charles.
Back in New York, a distraught Liza tried her best to get in touch with Josh but he was MIA. Can ya blame him? He put his heart on the line for her and ended up seeing the woman he loves cheat on him. Low blow.
And if that wasn't enough to bring Liza down, Empirical was looking to score a book deal with a motivation speaker who was really good at telling people to "get real" about what they wanted out of life. Liza and Kels attended a seminar and turns out, Liza's heartbroken ex-husband was also in attendance. He got pulled up on stage and began talking about how his ex-wife who he was still in love with was out living this teenage life and dating a younger man and completely abandoning all family responsibilities. Not David can really talk  because he's the reason their marriage fell apart; he cheated and he had a gambling problem.
The speaker encourages David to call his ex-wife right then and there so of course Liza books it into the bathroom. There she is confronted by both of them and comes to a shocking realization – she's actually in love with Josh. It isn't just a hook up for her and she isn't using him either, she's just in love. But being hurt so badly before, she's self destructive and sabotaging a good thing before it hurts her. And can we blame Liza? At her age, dating a younger man is pretty scary and you never know when he'll leave you for a younger woman or blame you for screwing up the best years of his life.
With that realization, Liza texts Josh who allows her to "come over." She tries to explain that she made a huge mistake but realized she's actually in love with him but he wasn't ready to hear it. Listening to Josh really made me sad because well, he had a point. He accepted that she was older, he accepted her daughter, who is in college, he accepted her ex-husband and he accepted that she didn't want kids. "I chose you," he exclaimed. And in that moment, it was pretty clear – Liza hadn't done much for him in return. It was always about her.
Then came the real kicker – Josh called her a "liar and a cheater" who didn't realize her lies were hurting everyone around her. With that, he reluctantly kicked her out. Sad part is that it's all true. We like Liza so we're rooting for her – how can you not, this woman has been through a lot and for the most part, lied in order to get her life back on track. But at the same time, she's doing exactly the same thing her husband did to her.
At her lowest, she trudged home to cry to Maggie only to find a heartbroken Kelsey, who lost Colin's love as quickly as she'd lost his book. Damn that Pippa! Before Kels was even able to vent about what was going on in her life, Liza hit her with the truth bomb. "This is my daughter, Caitlyn. She's in college," she said. "And I'm not 26, I'm going to be 41 in a few weeks," she added.
"I don't understand," Kelsey replied.
"Then let me explain," Liza answered.
Powerful words considering Josh never let her explain. And in order for anyone to understand why Liza did what she did, she needed to explain from the beginning.
Things just GOT REAL and the writers weren't lying – this changes everything. We've all been preparing ourselves for this moment, so has Liza. She knew she had to come clean eventually. The question is – will everyone be as forgiving as Josh was when he found out? Will she keep her job? Or will she be down in the dumps worse than when we first met her in episode 1?
Other Thoughts
I'm sure Kelsey feels betrayed by everyone around her. Colin "paused" their relationship because after Netflix reached out for a series deal, he let it get to his head and didn't want love to get in the way of success. Meanwhile Lauren betrayed her by allowing her new Jewish med doctor to move in and not even asking Kels if it was ok. At this point, the only person she has in her screwed up life dynamic is Liza.
Surprisingly, things are going well for Diana. She posed nude for her new man, who she's also living with. Her parrot also learned a few words…. all the ones she screamed during the best "sex" ever with Richard, which Elpheba politely re-enacted in front of a bunch of kids and Charles. Oh boy.
As for Charles, last we saw, he told Liza he was fond of her but wouldn't be getting in the middle of happy couple again. Although really too late and I swear we've heard that before from him. Will things change when he finds out Liza is actually his age and that's why they get along so well?
What is going through your mind after that Younger finale?
Younger – It's All About the Money, Honey (6×10)
Another day, another PR nightmare for Millennial.
Kelsey, Liza, and Charles visited my hometown of Chicago on Younger Season 6 Episode 10, but things weren't exactly a breeze in the Windy City.
The trip was high-stress from the beginning as Kelsey and Charles attempted to sway their last remaining investor in to keep the company afloat.
They're broke now, remember?
Charles took charge in the male-dominated meeting, but Kelsey flexed her publisher muscle by explaining that Millennial's main asset is their ability to keep up with the times. Sometimes, a little too much.
There was a mention of transparency, which was worrisome considering Millennial's lack of transparency when it came to Liza's lie.
However, it wasn't something the investors, all older men, would have been made privy too.
As they pointed out in the meeting, they didn't understand the power of social media or how it could make them money, so chances are they didn't Google to read up on Millennial's recent hiccups.
But they got a very detailed lesson on social media courtesy of Kelsey.
After securing the funding, Kelsey and Charles' celebrations were short-lived as they were plagued by another social media snafu, this time not one of Liza's making.
Younger – Millennial's Next Top Model (6×09)
This season just keeps getting better and better.
Millennial, with Kelsey in tow, dealt with the aftermath of "42-gate" on Younger Season 6 Episode 9.
The publishing world was rocked by Pauline's scandalous revelation that Liza, formerly known as 1 of 2 awesome millennial editors, was, in fact, a 42-year-old woman.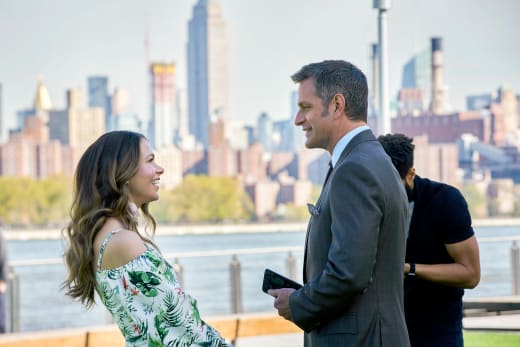 The company was sinking, clients were dropping, authors were fleeting, but they didn't have to be.
This negative reaction could have been prevented with better preparation from Team Millennial.
Since they knew the truth, they were the ones holding all the cards and should have had a contingency plan in case someone exposed Liza.
And there were plenty of people who could have potentially pulled the trigger.
Related: Younger Season 6 Episode 8 Review: The Debu-taunt
Instead, they were trying to catch up with the headlines, which made it harder to change the narrative already painted about the company and its employees.
Zane was the only one with an outside perspective; he wasn't close to Liza, he didn't have any connection to her, nor did he owe her anything.
But his advice to fire Liza also overlooked the negative impact it would have had on the company.
Liza lied because a woman in her forties wasn't granted the same opportunities in the workforce as a thriving woman in her 20s.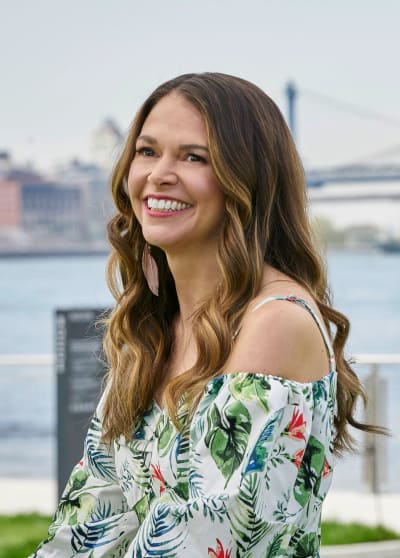 If they fired her, they'd only be feeding into the age discrimination that Liza was trying to combat with her illegal move in the first place.
They'd essentially be proving her point.
Zane was right in saying that Liza lied and made everyone, namely Kelsey and Charles, complicit, but he failed to acknowledge that they all knew about her lie and helped her cover it up.
They lied on her behalf, so in a way, they're just as responsible for Millennial's potential downfall as Liza.
Harboring a secret is equal to assisting someone in harboring said secret.
Read the full review at TV Fanatic!
Younger – The Debu-taunt (6×08)
What a big, emotionally-loaded episode.
The cast of Younger wasn't lying when they said Younger Season 6 Episode 8 was the episode we've all been waiting for.
If you're not crying happy tears after Liza's and Diana's "I love you" exchange, you have no soul.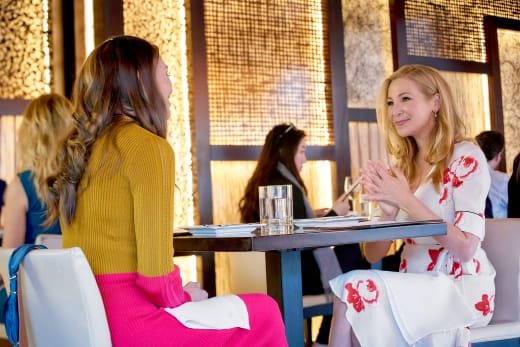 We've all been so focused on Younger's love-triangle, but the magic has always been in the relationships between the female characters.
Liza's secret unraveled at a rapid pace and by the end, we were all in a different space mentally, physically and emotionally.
For the most part, everyone was in a better, more honest place, even if Millennial is stuck going through an identity crisis.
Diana was one of the last remaining Empirical/Millennial employees who was kept in the dark about Liza's real age, and we all wondered when and how she'd find out the truth.
I knew that when it happened that it was going to be intense, but I had no idea it would be such an emotionally raw moment.
Related:  Younger Season 6 Episode 7 Review: Friends with Benefits
Diana rarely wears her heart on her sleeve, but when Pauline pubically tore down Liza, she put her foot down against the alleged slander and came to her assistant's defense.
One might say it's wildly out of character for Diana to be so bold since we've never seen her defend someone so passionately, but it really wasn't.
Diana loves her co-workers under her icy exterior and she'd do anything for them.
Read the full review at TV Fanatic!