If that's the last time we'll ever have to see Montana, or Amy, or whatever her real name is, I can live a happy life.
Maggie owned the episode this week on Younger proving that she's not someone you want to mess with. Unless you're down for a woman with a switchblade with meat stabbed onto the end, then mess with her all you want.
Montana, the sweet coffee shop girl turned Maggie's assistant turned Josh's temporary squeeze tried it this week. It all started when she informed me of her upcoming art show, which seemed promising considering we know she's an aspiring artist with impressive dick-shaped foam art to prove it.
Unfortunately, that's where her artist talents stopped…. or to be punny, fell short. Like a Drake song, Montana went from 0 to 100, sweet to overbearing really quickly. The first sign was when she invited Josh to help out in her studio. It wouldn't have been an odd thing at all had her studio not been attached to her parents' house and the only reason she invited him in the first place was to introduce him to the rents… after one date. The gods were basically screaming for Josh to "run" at that point but since he was quite far from New York, he stuck it out and found out that Montana's art consisted of appropriation.
If you think that sounds bad, that's because it is. This girl basically steals artwork from other artists, tapes on the shape of the state of Montana and sells it as her own. According to her mother, it's innovative. Josh is clearly thrown off by this outward example of stealing and confronts her about it but Montana doesn't see the wrong in it either explaining that this is just what "millenials" do. At this point, I'm fairly certain Josh's appreciation for dating 40-year-old women skyrocketed.
Josh goes with his gut feeling and tells Maggie about Montana's show, even though she specifically asked him not to. Mere moments pass before Liza gets a text from her crazed roomie that "shit's about to go down." When Montana spots Josh's ex and her previous "mentor" she waltzes over and snobbishly informs her that the artwork is now hers to sell because she "added onto it," prompting Maggie to take out her switchblade, slash the painting and exclaim, "now it's mine." I've never seen Liza prouder of Maggie, the gift that keeps on giving… and giving some more.
Liza and Josh have been avoiding each other the whole season so it about time they finally had a real face-to-face. Time heals all wounds and he was finally ready to talk things through. "Why did you have to kiss him," he asked her with that puppy-dog hurt face that melts every girl in America, I'm sure of it. Liza's answer was brutally honest – she had to blow it up to give him a fighting chance at a normal relationship. A chance at having kids, deciding if he wants kids, living his young adult years.
The realness of the break up began setting in even more when she told him that she's love to be in his life still and maybe someday be the fun "Aunt Liza." Openly saying that you want a dude to move on and have kids with someone else is the equivalent of saying "it's never going to happen again. She basically cemented in the reality that these two were over for good and not because she doesn't love him but because she knows that one day, he'd wake up miserable and with regrets. It's noble of her to put his needs first. Josh's facial expression revealed that he too picked up on that message and while it was hard for him, he promised that he would always be in her life in some capacity, even if it wasn't romantically. Exes can be friends.
This basically gives Liza the go-ahead to pursue Charles and based on her actions at work and behavior towards him, I'd say it's going to happen sooner rather than later. I mean we all saw him look at her butt as she walked away from him right?
I'm also going to call it right now – Liza is going to take her story of lying about her age and falling for a much younger man and having loads of hot sex and she's going to turn it into one of those "happily ever after" love romances. Think about it, she's a good writer, she's authentic because she owns the story and she'll be able to stay anonymous… for awhile at least.
Kelsey's relationship with Zane is also heating up. I wasn't convinced that I could take Marcel out of the actor but he's convinced me that this tailored-suit wearing character was meant for him. With The Originals coming to an end, I hope they find a way to give Kelsey her happily ever after by keeping him around as eye candy numero dos, next to Josh. Considering Kels' luck with men, it seems rather unlikely, especially since he's been playing it cool after finding out that she poached his author. He's either planning to retaliate or he played her into falling for him and still going after Lachlan because they were going to release him anyway. Either way, it spells trouble.
Do you think Liza and Charles should just hook up already? Should Liza tell everyone the truth? What's next in Josh's story now that he's made up with his ex and gotten her blessing to go date and be young?
Other Thoughts
Every girl in New York City carries a toothbrush and underwear with her. Noted. Also, kind of a good idea.
Josh considers Maggie to be his friend. I love that. He's a good human. He even chose her and Liza over Montana because let's face it, no matter how good the sex is, you just can't stay with crazy.
Diana wants to MEET Maggie, which is good for Maggie and possibly bad for Liza.
Younger – Millennial's Next Top Model (6×09)
This season just keeps getting better and better.
Millennial, with Kelsey in tow, dealt with the aftermath of "42-gate" on Younger Season 6 Episode 9.
The publishing world was rocked by Pauline's scandalous revelation that Liza, formerly known as 1 of 2 awesome millennial editors, was, in fact, a 42-year-old woman.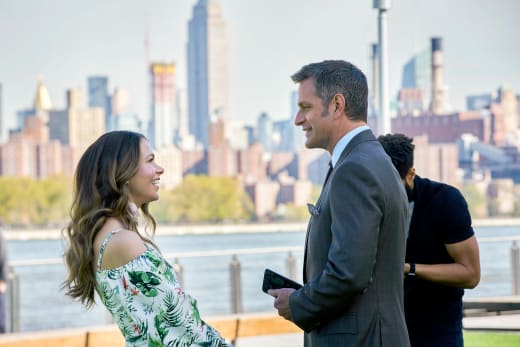 The company was sinking, clients were dropping, authors were fleeting, but they didn't have to be.
This negative reaction could have been prevented with better preparation from Team Millennial.
Since they knew the truth, they were the ones holding all the cards and should have had a contingency plan in case someone exposed Liza.
And there were plenty of people who could have potentially pulled the trigger.
Related: Younger Season 6 Episode 8 Review: The Debu-taunt
Instead, they were trying to catch up with the headlines, which made it harder to change the narrative already painted about the company and its employees.
Zane was the only one with an outside perspective; he wasn't close to Liza, he didn't have any connection to her, nor did he owe her anything.
But his advice to fire Liza also overlooked the negative impact it would have had on the company.
Liza lied because a woman in her forties wasn't granted the same opportunities in the workforce as a thriving woman in her 20s.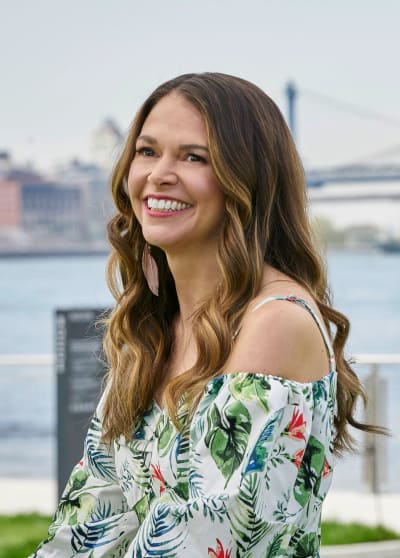 If they fired her, they'd only be feeding into the age discrimination that Liza was trying to combat with her illegal move in the first place.
They'd essentially be proving her point.
Zane was right in saying that Liza lied and made everyone, namely Kelsey and Charles, complicit, but he failed to acknowledge that they all knew about her lie and helped her cover it up.
They lied on her behalf, so in a way, they're just as responsible for Millennial's potential downfall as Liza.
Harboring a secret is equal to assisting someone in harboring said secret.
Read the full review at TV Fanatic!
Younger – The Debu-taunt (6×08)
What a big, emotionally-loaded episode.
The cast of Younger wasn't lying when they said Younger Season 6 Episode 8 was the episode we've all been waiting for.
If you're not crying happy tears after Liza's and Diana's "I love you" exchange, you have no soul.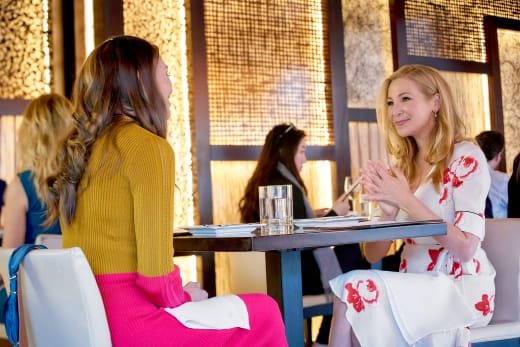 We've all been so focused on Younger's love-triangle, but the magic has always been in the relationships between the female characters.
Liza's secret unraveled at a rapid pace and by the end, we were all in a different space mentally, physically and emotionally.
For the most part, everyone was in a better, more honest place, even if Millennial is stuck going through an identity crisis.
Diana was one of the last remaining Empirical/Millennial employees who was kept in the dark about Liza's real age, and we all wondered when and how she'd find out the truth.
I knew that when it happened that it was going to be intense, but I had no idea it would be such an emotionally raw moment.
Related:  Younger Season 6 Episode 7 Review: Friends with Benefits
Diana rarely wears her heart on her sleeve, but when Pauline pubically tore down Liza, she put her foot down against the alleged slander and came to her assistant's defense.
One might say it's wildly out of character for Diana to be so bold since we've never seen her defend someone so passionately, but it really wasn't.
Diana loves her co-workers under her icy exterior and she'd do anything for them.
Read the full review at TV Fanatic!
Younger – Merger, She Wrote (6×06)
Someone pass the tissues because Younger Season 6 Episode 6 had me in tears from both laughing and crying.
What a work out in 23 minutes!
The mix of a comedic and heartfelt made this the best episode to date.
My expectations were high after seeing Peter Hermann and Nico Tortella tease the episode as the one "we've always wanted to happen."
And the moment I heard the words retreat, I knew it was going to go down.
All of the craziest things have happened at retreats and that was when microdosing (taking small amounts of drugs) wasn't involved.
Add drugs and the fact that Liza's there with her ex and a current boyfriend who she's feuding with, well, what could go wrong?
I don't condone the use of drugs, but man, it was so hilarious to see her hallucinating.
There was no shortage of funny moments: Josh and Charles merged into one person, Charles spoke using Josh's voice, and Liza danced with a plant.
That last one is going down as one of the show's most iconic moments.
While I'm not a fan of continuing the love triangle, if we have to endure it, this was the most interesting way to go about it.
With the added layer of not-LCD, my interest was piqued.
What would come of their heightened reality, open mind, and unlocked unconsciousness?
Related: Younger Season 6 Episode 4 Review: An Inside Glob
Apparently, the only realization that Liza had was that she's still torn between Josh and Charles. Go figure.
Now, I'm in no way complaining about Liza's dance routine because they got to incorporate Sutton Foster's real-life talents into it in a way that felt authentic and fun to the story, but I wish her altered state allowed her to finally settle for one.
Flipping between Josh and Charles in bed was great, but at some point, the show has to reign in on one and let the other one go.
At this point, I don't even care which guy she ends up with, I just can't keep bouncing back-and-forth.
Especially because it does seem like Josh has finally accepted Liza's new relationship and even bonded with Charles while she was otherwise occupied.
After the retreat, Charles mentioned that he had a good chat with Josh, which convinced him to fight for his family at Millennial.
Read the full review at TV Fanatic!