Before I jump into my review, I'll preface that I did NOT hate the season finale of Younger as much as others did. Maybe it's because I'm neither #TeamCharles or #TeamJosh…. I'm #TeamConfused and so I thoroughly enjoyed the excitement of "who will it be." I felt that in order for Liza to truly be done with one of them in the romantic sense, she had to gain some closure, which is what her trip to Ireland was all about. Sure, she may not have gotten her happy ending but to me, there's no such thing – the fun is in the journey and this was one heck of an adventure. And it guarantees a few more seasons! At this point, I don't think Liza is even ready for a happy ending yet.
SPOILERS – STOP READING IF YOU HAVEN'T WATCHED! 
The season 4 finale of Younger took us on a trip to Ireland for a supersized finale that included Irish dancing, lots of lying, and a green-card wedding. All in that eventful order.
After receiving a midnight call from Josh, Liza flew halfway around the world to be the "best man" at her ex-boyfriends wedding. A wedding not out of love but out of the need for a green-card. Josh was happy to oblige because he wanted to keep Claire in NYC to "see what this could become." Can you imagine what would happen if I married every person I ever dated just out of curiosity?
Upon arrival, Liza and Maggie were surprised to find wedding preparations in FULL swing. Claire's mother, a newfound lesbian thanks to Maggie, is so enthralled in the wedding planning process, they simply let her believe that it was happening for legit reasons. Plus, what mother wants to know that her daughter's big day is only for papers?
A quick trip to the city with Claire alerts Liza that she's not just here for moral support – Josh brought her to Ireland to bolster the validity of the marriage and the worst part is he doesn't even have the balls to ask Liza to lie for him himself. "You kind of owe him this," Claire utters revealing that Josh wasn't too tight-lipped on Liza's little white lie.
When Liza finally confronts Josh, he's already drunk and throws a hissy fit exclaiming that Liza had no problem lying for herself but wouldn't lie for him. Low blow. At this point, Liza's compromised because she's not the most honest person in the world but at the same time, she knows how dangerous one small lie is and how it can take on this whole new life. I lost a lot of respect for Josh in the finale as his immaturity really began to show. He was trying so hard to force this "thing" with Claire, a girl who couldn't even say she was in love with him when Liza asked, only because he was trying to mask his feelings for Liza and mend his broken heart. When he told her "if you don't want to be here then just go home," I seriously prayed she would pack up her bags and leave and stop enabling him but I get it, she cares for Josh and feels protective over him. I think a part of her also wanted to prove that they could just be friends and that means supporting him even when she doesn't agree with his methods.
So she stuck around for the Irish pre-wedding party where she danced up a storm with Claire and came to her defense when her alleged "best friend" tried to exploit the relationship for what it is, a fake marriage. "When someone you love that much proposes, you say yes. Believe me, you say yes," Liza says, validating their relationship in front of Claire's friends and family.
That statement, however, proves that she's still very much in love with Josh, which is something Maggie kept foreshadowing when she kept taunting her with the "friend" word, knowing damn well Liza wanted nothing more than to stop this wedding. It's when the heartbreaking reality set in that she loved someone she had absolutely no future with. She's attracted to him but cares for him enough that she wants what's best, which is why she broke it off in the first place. She's fully aware that age gap is significant and wants him to live his best life, to have the chance at children and despite him saying that the only future he wants is one with her, she has a better grasp and can see clearer down the line. Someone can say one thing now but later on change their mind and resent you for stealing their golden years. This is why the choice between Team Josh and Team Charles is so hard. Because under the right circumstances, Josh is and could be the right choice.
And not only is it already complicated between Liza and Josh, now he's getting married and he drunkenly stumbles into her room and Lucas Scott's her. I kid you not, Josh pulled a Lucas Scott from One Tree Hill and professed his love to Liza the same way Lucas did to Peyton.
"It's you Liza, it's always been you." 
Can you believe Josh just One Tree Hill'ed us? Okay, maybe it wasn't word for word the same but literally, I had Deja Vu followed by the same goosebumps I had back in 2006 when I first watched that scene. I may need a moment.
Then to add an additional layer of complicated,  Josh SLEPT, just slept, with Liza the night before and then the next day, was outside mingling with the guests, going forward with the wedding at a full speed. Understandably, Liza was confused. But seriously, not more confused than Josh who basically told her that in order to free himself from her spell, he needed to put a ring between them.
This is the equivalent of saying that you hope your cheating husband changes after you get married. Marriage isn't some magical solution that fixes all your problems and makes feelings go away. In fact, things are only going to get messier with Josh being married because deep down inside, whether he wants to soberly admit it or not, Liza is the one. Not Claire.  And no ring, no binding ceremony, no document will change that.
He's also lying to Claire, which is a new low for Josh because as Maggie pointed out, he hates liars. He married her knowing that he was withholding the truth from her and the whole beginning of their relationship, like his relationship with Liza, is now based on lies. And maybe he just assumes she doesn't care because the marriage is for papers but it's still a valid marriage. Imagine how she's going to feel if she ever finds out what he was up to just mere hours before they tied the knot. I know, I'm getting way too deep into this but I mentioned that Josh's immaturity was showing and this was the cherry on top. Also, who else is SHOCKED that Josh actually went through with the marriage? I guess we were all so certain that he would back out that actually having him get married was the storyline to throw us off.
At this point, Liza's getting hit from every angle. When she left for Ireland, she informed Diana about her trip but failed to let Charles, you know the man she just admitted to loving, know that she was leaving town. Why? How hard would it have been to pop in and say "hey, I'm going to Ireland cause Josh is getting married." Do you know how many problems we could have avoided?
Instead, Charles found out she was "chasing Josh around Ireland" from Diana, who was sitting on her independent high horse after kicking Richard to the curb. With that in mind, every decision Charles made from that point on in regards to Pauline was based on the fact that Liza had been pushing him away and allowing him to reconcile with his ex and now she was off in another country with hers.
Zane tried to one-up Kelsey in the meeting by offering up a segment on Good Morning America for "Marriage Vacation" and while everyone was on board, Charles was adamant that he was not going to go on live television to support his wife. Of course, during the interview, the producer threatened to pull the segment unless she got something juicy so Zane caved and gave the OK for them to bring Charles on set in front of a live audience. And how do you say no on live TV without looking like a jerk?
That was honestly the last straw for Zane. I truly wanted to love him but he's just the type of person to throw everyone under the bus to save his own face. It's despicable and shows the true nature of his character – we were all so intrigued by his bad boy antics but really, he was just bad. I'll miss the eye candy but I wouldn't mind if he got as far away from Kelsey as possible.
Pauline is so desperate to make everyone believe that they are back together, it's almost delusional. How does a middle-aged woman who left her whole family to "find herself" just assume they're all going to take her back? And even more frustrating is that Charles willing plays along with her narrative of getting back together in order to get better ratings to sell the book. Oh, how money talks. Her story is rich however because it's relatable to Liza and that's why they've bonded so well. Pauline essentially mirrors Liza, who also felt trapped in her marriage and wanted to break free to find her career. They've both done these drastic things in hopes of making something of themselves, which is why Liza has willingly stepped aside, despite her strong feelings for Charles. She won't be the woman to stand in the way of another woman's happiness, even if it costs her her own.
Now the good thing is that after all of this, Charles is still very much focused on Liza. That frustrating yet predictable cliffhanger – we all saw it coming when Claire's friend said it was a no-cellphone ceremony – leaves us wondering what Charles was going to say. At the end of the day though, it's good he still wants to talk to Liza and pursue whatever chemistry there is between them. He's hoping she'll understand he went along with the "we're back together" narrative to sell the book and if she does, maybe there's hope he'll  understand why she had to lie about her age when she finally tells him. There are SO MANY LIARS on this show. And it's all a domino effect from Liza.
So I get why fans are so angry. The whole season has kind of been a "will they or won't they" between Liza and Charles and it ended with Liza struggling with her feelings for Josh. But it was necessary to make room for Charles. After her breakup with Josh, instead of understanding her feelings and getting over them, she ignored them, pushed them aside because it was the right thing to do. This Irish goodbye doesn't open the chapter for them, it closes the romantic book. He's off the market but not out of her life completely because she still has to be heavily involved to vouch for his marriage, which adds a new layer of complexity for next season.
Come season 5 though, it's your time #TeamCharles fans. The cliffhanger guarantees (and the producers already acknowledged) that the focus will be primarily on Liza and Charles. They are way overdue at this point and they have to at least give it a chance – a real chance, not just a quick make out sesh before the janitor waltzes in.
Thoughts on the Younger season finale? I know you probably had just as many as I did but come on, there are so many rich layers to peel back here. They always say, to hide one small lie, a thousand lies are needed and this finale showed that beyond a doubt!
Do you believe Josh is Liza's soulmate and having her with Charles goes against the show's theme of breaking age cliches? Or do you think he's just the one who woke her up and she's really meant to be with a grounded man like Charles? To me, the Liza who came to Brooklyn is a free-spirited woman who doesn't want her old life back. So while both dudes have their assets, they also have their flaws. Maybe Liza just needs to pick Liza and focus on the career, which is why she really lied in the first place.
Younger – Millennial's Next Top Model (6×09)
This season just keeps getting better and better.
Millennial, with Kelsey in tow, dealt with the aftermath of "42-gate" on Younger Season 6 Episode 9.
The publishing world was rocked by Pauline's scandalous revelation that Liza, formerly known as 1 of 2 awesome millennial editors, was, in fact, a 42-year-old woman.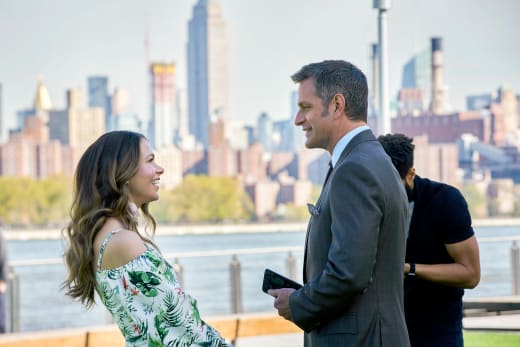 The company was sinking, clients were dropping, authors were fleeting, but they didn't have to be.
This negative reaction could have been prevented with better preparation from Team Millennial.
Since they knew the truth, they were the ones holding all the cards and should have had a contingency plan in case someone exposed Liza.
And there were plenty of people who could have potentially pulled the trigger.
Related: Younger Season 6 Episode 8 Review: The Debu-taunt
Instead, they were trying to catch up with the headlines, which made it harder to change the narrative already painted about the company and its employees.
Zane was the only one with an outside perspective; he wasn't close to Liza, he didn't have any connection to her, nor did he owe her anything.
But his advice to fire Liza also overlooked the negative impact it would have had on the company.
Liza lied because a woman in her forties wasn't granted the same opportunities in the workforce as a thriving woman in her 20s.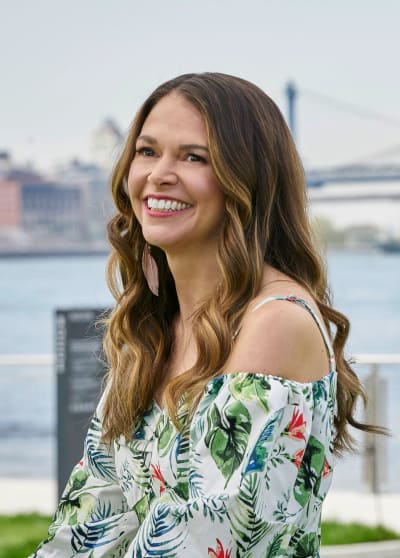 If they fired her, they'd only be feeding into the age discrimination that Liza was trying to combat with her illegal move in the first place.
They'd essentially be proving her point.
Zane was right in saying that Liza lied and made everyone, namely Kelsey and Charles, complicit, but he failed to acknowledge that they all knew about her lie and helped her cover it up.
They lied on her behalf, so in a way, they're just as responsible for Millennial's potential downfall as Liza.
Harboring a secret is equal to assisting someone in harboring said secret.
Read the full review at TV Fanatic!
Younger – The Debu-taunt (6×08)
What a big, emotionally-loaded episode.
The cast of Younger wasn't lying when they said Younger Season 6 Episode 8 was the episode we've all been waiting for.
If you're not crying happy tears after Liza's and Diana's "I love you" exchange, you have no soul.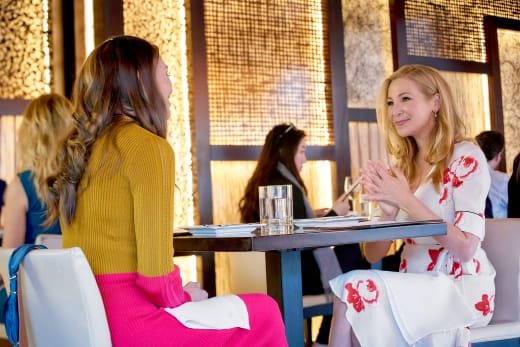 We've all been so focused on Younger's love-triangle, but the magic has always been in the relationships between the female characters.
Liza's secret unraveled at a rapid pace and by the end, we were all in a different space mentally, physically and emotionally.
For the most part, everyone was in a better, more honest place, even if Millennial is stuck going through an identity crisis.
Diana was one of the last remaining Empirical/Millennial employees who was kept in the dark about Liza's real age, and we all wondered when and how she'd find out the truth.
I knew that when it happened that it was going to be intense, but I had no idea it would be such an emotionally raw moment.
Related:  Younger Season 6 Episode 7 Review: Friends with Benefits
Diana rarely wears her heart on her sleeve, but when Pauline pubically tore down Liza, she put her foot down against the alleged slander and came to her assistant's defense.
One might say it's wildly out of character for Diana to be so bold since we've never seen her defend someone so passionately, but it really wasn't.
Diana loves her co-workers under her icy exterior and she'd do anything for them.
Read the full review at TV Fanatic!
Younger – Merger, She Wrote (6×06)
Someone pass the tissues because Younger Season 6 Episode 6 had me in tears from both laughing and crying.
What a work out in 23 minutes!
The mix of a comedic and heartfelt made this the best episode to date.
My expectations were high after seeing Peter Hermann and Nico Tortella tease the episode as the one "we've always wanted to happen."
And the moment I heard the words retreat, I knew it was going to go down.
All of the craziest things have happened at retreats and that was when microdosing (taking small amounts of drugs) wasn't involved.
Add drugs and the fact that Liza's there with her ex and a current boyfriend who she's feuding with, well, what could go wrong?
I don't condone the use of drugs, but man, it was so hilarious to see her hallucinating.
There was no shortage of funny moments: Josh and Charles merged into one person, Charles spoke using Josh's voice, and Liza danced with a plant.
That last one is going down as one of the show's most iconic moments.
While I'm not a fan of continuing the love triangle, if we have to endure it, this was the most interesting way to go about it.
With the added layer of not-LCD, my interest was piqued.
What would come of their heightened reality, open mind, and unlocked unconsciousness?
Related: Younger Season 6 Episode 4 Review: An Inside Glob
Apparently, the only realization that Liza had was that she's still torn between Josh and Charles. Go figure.
Now, I'm in no way complaining about Liza's dance routine because they got to incorporate Sutton Foster's real-life talents into it in a way that felt authentic and fun to the story, but I wish her altered state allowed her to finally settle for one.
Flipping between Josh and Charles in bed was great, but at some point, the show has to reign in on one and let the other one go.
At this point, I don't even care which guy she ends up with, I just can't keep bouncing back-and-forth.
Especially because it does seem like Josh has finally accepted Liza's new relationship and even bonded with Charles while she was otherwise occupied.
After the retreat, Charles mentioned that he had a good chat with Josh, which convinced him to fight for his family at Millennial.
Read the full review at TV Fanatic!