"To Liza, it's her fault we're in this damn mess," Claire says as she raises a toast during her Irish goodbye party. And if you want to get technical, it really is all Liza's fault. But aren't you at least a little bit thankful for Liza's lying and secretive bone? If she didn't start all of this, we wouldn't have gone on all of the adventures and felt all the feels and been torn between shipping Liza and Josh and Liza and Charles, which I still very much am. The point is, you should be cheers-ing and THANKING Liza for all of this because truth be told, right now, she's getting the short end of the stick.
As the episode kicks off, she's watching Claire and Josh fondle each other and openly discuss bed activities. Exes should never be subjected to that. And seeing Liza cringe a couple of times, as did I, you know she's not completely over Josh although it seems he's very much over her.
Josh is completely smitten with Claire and bummed that they cannot be together because the end of her internship means the end of her work visa means she's going back to Ireland. And while he's trying to salvage this in any ways possible, even bringing up the possibility of a long distance relationship, she seems fine with things ending. That's the first straw. I wanted to believe Claire wasn't as batshit crazy as Montanna, but something tells me, she's a master manipulator covering up for it with her sweet Irish accent. I think Claire sensed Josh's vulnerability – he's been trying to get over Liza so he's getting under anyone else. Now that he has nothing left to offer her, she's ending things. But what if he were to offer her a way to stay in the states through marriage, which we all see coming. Then I think she'd be a little more responsive. I hope Liza figures it out next week but would Josh even listen to her? In the promo, we see Claire telling Liza she "owes" Josh but surprisingly he doesn't seem too happy about the possible wedding. Is he maybe realizing that he's being played?
Things got heated at Empirical when Charles and Diana informed Kelsey and Liza that they were considering publishing Marriage Vacation on their imprint, instead of Millenial. Kelsey's outburst at the "disrespect" once again showed her level of immaturity and Liza's understanding tone showed her maturity. Though I wonder if she would have the same reaction if she wasn't, you know, in love with Charles. Also, Liza indifferent on which imprint they go with because either way, she's getting tons of recognition. Which also begs the question, how is no one outing her real age? Her picture keeps popping up in the glossy's and someone is bound to know her real story. This is NY after all. And if not, I'm surprised her lowlife ex hasn't seen how prosperous her career is and tried to sabotage it by outing her.
Then there's the love triangle that we all wish didn't exist – Pauline, Charles and Liza. Charles seems to be really impressed with Pauline's book mainly because Liza edited it and her voice can be heard throughout it, which continues to be proof that he's still very much into her. However, he's pulling a Liza. He's backing off because he wants to give her the "young" life she deserves, just like Liza did with Josh. He's taking a play from her book.
His actions towards Pauline are in no way romantic or inviting to rekindle the romance but Pauline wants them to be. She's making a fool of herself trying to go back to the way things used to be and Charles is reacting with kindness for the sake of the children and his image. I believe that Pauline senses something is going on between Liza and Charles because if Jay figured it out, a woman surely would and so she's trying to play up the relationship, make it something more than it is, to keep Liza away. Claiming territory and all.
Ah yes, Jay. He's the nice guy next door that you wish things could work out with but literally, there is NOTHING but dead air between them. It's so forced and mundane and I about cringed every time he mentioned bringing Liza home. Even Liza's take on the relationship is "practical." When he finally makes the connection that Liza loves Charles, she admits it, breaking down in his arms as he comforts her. Look, I don't believe Jay's a bad guy but realistically, he now knows all of her secrets and even an angel can do a lot of damage with that much information. And he's very well known in the "in crowd" so it's only a matter of time.
So really, we're in this mess, as Claire stated because Liza doesn't know how to go after what she wants. I believe she should just do and ask for forgiveness later and you know with how Charles feels about betrayal, there will be a lot of forgiveness. I don't understand why it's so easy for her to trust Pauline but assume Charles is playing her, even though she's been pushing him into his old relationship. Everything that Charles has been doing was once done by Liza before – giving her space to be young, putting his kids first – so she should be understanding. But I think as a woman scorned by his first marriage, she wants to give the woman the benefit of the doubt. Although she should know that sometimes, people don't want second chances in a marriage. She definitely wouldn't so why assume Charles would?
Then there's the addition of Zane to Empirical. I can honestly say, I didn't see that coming. Zane, the man we love to hate, asked Kelsey to go into business with him and for a hot second, she actually considered until Liza made her do some homework and she realized that he was trying to play her again. I don't really know why he did what he did all that – maybe to throw her off the scent that he was actually going to swoop into her company? Either way, it was bold and brash and will definitely make for some good television, especially if they continue sleeping together. Plus, I can never complain about more Charles Michael Davis and if him joining the team is the only way we get to keep him in this world than so be it.
Diana finally got her shining moment when she kicked dead old Richard to the curb. We all knew he was bad news since the beginning but back then, she was scared of being alone. She was easy prey, looking for love literally anywhere and even though she knew he was taking advantage, pretended that it was okay. This time though, she learned her lesson and showed him the door and her badassery.  I swear she should have won an Oscar for that moment where she walked out, almost broke down, reminded herself that she's a boss, and strutted to accept her Pubbie award, knowing that she was a strong, powerful and independent woman that was better off on her own.
Thankfully, she didn't have to stand completely alone because she has friends by her side, even if she refuses to admit that Liza is her friend. That moment where she grabbed her hand was proof that under the cold exterior, Diana has a good heart. A heart that won't be taken advantage of ever again. We could all learn a few things from her.
So Younger fans – do you think Liza admitting to herself that she loves Charles will finally bring them to the next step in their relationship? Or will Pauline become the next obstacle, threatening to pull the book unless Charles does whatever she sayst? At this point, the longer Liza keeps her age a secret, the more collateral there will be.
Younger – It's All About the Money, Honey (6×10)
Another day, another PR nightmare for Millennial.
Kelsey, Liza, and Charles visited my hometown of Chicago on Younger Season 6 Episode 10, but things weren't exactly a breeze in the Windy City.
The trip was high-stress from the beginning as Kelsey and Charles attempted to sway their last remaining investor in to keep the company afloat.
They're broke now, remember?
Charles took charge in the male-dominated meeting, but Kelsey flexed her publisher muscle by explaining that Millennial's main asset is their ability to keep up with the times. Sometimes, a little too much.
There was a mention of transparency, which was worrisome considering Millennial's lack of transparency when it came to Liza's lie.
However, it wasn't something the investors, all older men, would have been made privy too.
As they pointed out in the meeting, they didn't understand the power of social media or how it could make them money, so chances are they didn't Google to read up on Millennial's recent hiccups.
But they got a very detailed lesson on social media courtesy of Kelsey.
After securing the funding, Kelsey and Charles' celebrations were short-lived as they were plagued by another social media snafu, this time not one of Liza's making.
Younger – Millennial's Next Top Model (6×09)
This season just keeps getting better and better.
Millennial, with Kelsey in tow, dealt with the aftermath of "42-gate" on Younger Season 6 Episode 9.
The publishing world was rocked by Pauline's scandalous revelation that Liza, formerly known as 1 of 2 awesome millennial editors, was, in fact, a 42-year-old woman.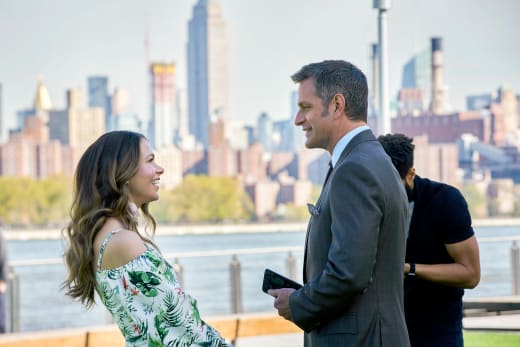 The company was sinking, clients were dropping, authors were fleeting, but they didn't have to be.
This negative reaction could have been prevented with better preparation from Team Millennial.
Since they knew the truth, they were the ones holding all the cards and should have had a contingency plan in case someone exposed Liza.
And there were plenty of people who could have potentially pulled the trigger.
Related: Younger Season 6 Episode 8 Review: The Debu-taunt
Instead, they were trying to catch up with the headlines, which made it harder to change the narrative already painted about the company and its employees.
Zane was the only one with an outside perspective; he wasn't close to Liza, he didn't have any connection to her, nor did he owe her anything.
But his advice to fire Liza also overlooked the negative impact it would have had on the company.
Liza lied because a woman in her forties wasn't granted the same opportunities in the workforce as a thriving woman in her 20s.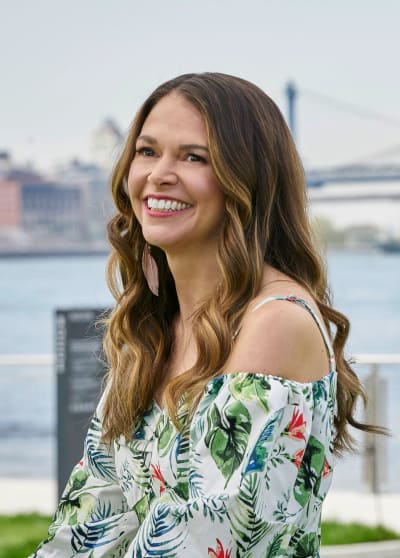 If they fired her, they'd only be feeding into the age discrimination that Liza was trying to combat with her illegal move in the first place.
They'd essentially be proving her point.
Zane was right in saying that Liza lied and made everyone, namely Kelsey and Charles, complicit, but he failed to acknowledge that they all knew about her lie and helped her cover it up.
They lied on her behalf, so in a way, they're just as responsible for Millennial's potential downfall as Liza.
Harboring a secret is equal to assisting someone in harboring said secret.
Read the full review at TV Fanatic!
Younger – The Debu-taunt (6×08)
What a big, emotionally-loaded episode.
The cast of Younger wasn't lying when they said Younger Season 6 Episode 8 was the episode we've all been waiting for.
If you're not crying happy tears after Liza's and Diana's "I love you" exchange, you have no soul.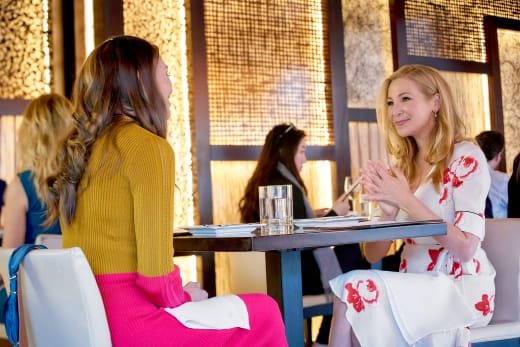 We've all been so focused on Younger's love-triangle, but the magic has always been in the relationships between the female characters.
Liza's secret unraveled at a rapid pace and by the end, we were all in a different space mentally, physically and emotionally.
For the most part, everyone was in a better, more honest place, even if Millennial is stuck going through an identity crisis.
Diana was one of the last remaining Empirical/Millennial employees who was kept in the dark about Liza's real age, and we all wondered when and how she'd find out the truth.
I knew that when it happened that it was going to be intense, but I had no idea it would be such an emotionally raw moment.
Related:  Younger Season 6 Episode 7 Review: Friends with Benefits
Diana rarely wears her heart on her sleeve, but when Pauline pubically tore down Liza, she put her foot down against the alleged slander and came to her assistant's defense.
One might say it's wildly out of character for Diana to be so bold since we've never seen her defend someone so passionately, but it really wasn't.
Diana loves her co-workers under her icy exterior and she'd do anything for them.
Read the full review at TV Fanatic!