This season just keeps getting better and better.
Millennial, with Kelsey in tow, dealt with the aftermath of "42-gate" on Younger Season 6 Episode 9.
The publishing world was rocked by Pauline's scandalous revelation that Liza, formerly known as 1 of 2 awesome millennial editors, was, in fact, a 42-year-old woman.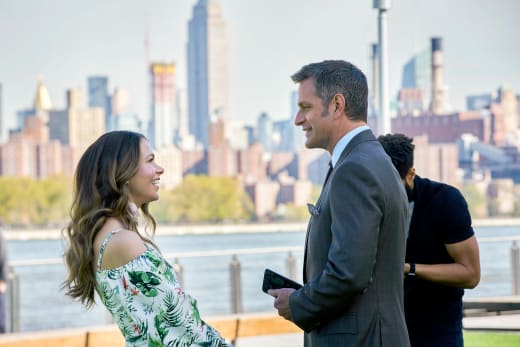 The company was sinking, clients were dropping, authors were fleeting, but they didn't have to be.
This negative reaction could have been prevented with better preparation from Team Millennial.
Since they knew the truth, they were the ones holding all the cards and should have had a contingency plan in case someone exposed Liza.
And there were plenty of people who could have potentially pulled the trigger.
Related: Younger Season 6 Episode 8 Review: The Debu-taunt
Instead, they were trying to catch up with the headlines, which made it harder to change the narrative already painted about the company and its employees.
Zane was the only one with an outside perspective; he wasn't close to Liza, he didn't have any connection to her, nor did he owe her anything.
But his advice to fire Liza also overlooked the negative impact it would have had on the company.
Liza lied because a woman in her forties wasn't granted the same opportunities in the workforce as a thriving woman in her 20s.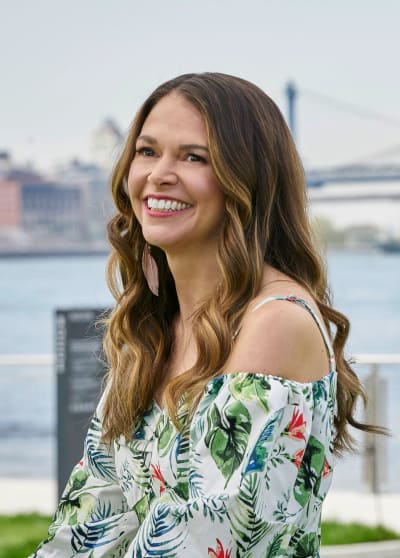 If they fired her, they'd only be feeding into the age discrimination that Liza was trying to combat with her illegal move in the first place.
They'd essentially be proving her point.
Zane was right in saying that Liza lied and made everyone, namely Kelsey and Charles, complicit, but he failed to acknowledge that they all knew about her lie and helped her cover it up.
They lied on her behalf, so in a way, they're just as responsible for Millennial's potential downfall as Liza.
Harboring a secret is equal to assisting someone in harboring said secret.
Read the full review at TV Fanatic!
Follow CRAVEYOUTV on socials
Why Isn't 'Younger' Season 7 Returning This Summer?
For six seasons, Younger has been my favorite summer series. Liza's love life feels like an endless summer romance, so while the series, which premiered in March of 2015, didn't start off as a summer staple, it's transformed into one with the past three seasons all premiering in June.
The lighthearted half-hour sitcom finds Liza Miller, a 40-year-old woman struggling to to re-enter the world of publishing after hiatus. When she keeps getting shown the door, she devises a plan to pretend that she's 26, and her lie takes her on quite an adventure.
The series is fun and flirty, giving you the kind of vibe you want during the summer months.
And as the weather heats up, so do Liza's relationships as she's caught between composed and accomplished, Charles, and free-spirited, Josh.
However, there's no sign of season 7 of Younger anywhere, and that's because, it isn't coming this summer.
The 'Lizzie McGuire' Revival Only Succeeds If It's a Mature, Authentic Reflection of Adult Life
Despite being renewed for a seventh season on July 2019, the series hasn't even begun production on the upcoming season.
If production hadn't been derailed due to the coronavirus pandemic and the subsequent shutdowns, the series would have likely finished filming in time for a July premiere.
Debi Mazar (Maggie) told ET that the series was set to have their first table read on the season on March 24 with production kicking off on March 30, which is around the time all TV show and film productions shut down.
While it's unclear when production may resume, Mazar said they are eyeing August or September, which would push the series back to a 2021 premiere likely in January.
All of this means that we're going to be waiting a lot longer than intended to get an answer to that season 6 cliffhanger — will Liza Miller accept Charles' proposal or will she'll decide that her heart still pines for Josh?
And can the series ever move on from the love triangle? Do we even want it to?
While Younger season 7 would have been a great escape for all of us who have been cooped up at home and hoping to get lost in Liza and Kelsey's world's again, we're just going to have to exercise some patience.
The summer won't be the same without the series, but don't lose all hope. As you look for your upcoming summer shows to watch, you can check out our list here!
And be sure to add The Bold Type to your list as it returns for the latter half of season 4 on June 11.
Sun's Out: 9 TV Shows That Make It Feel Like Summer Vacation Including 'Grand Hotel' and 'Summerland'
Plus, on the bright side, there have been rumblings that a Younger spinoff focused on Kelsey (played by Hilary Duff) is in early development!
Sexy and Steamy TV Shows to Watch During 'The Bachelor' Hiatus
With The Bachelor taking a hiatus (well, until their spinoff Listen to Your Heart premieres in April), you need to fill that reality TV dating void in your heart with some shows that are equally as hot and steamy.
While there are plenty of choices to make from the Bachelor franchise, if you're looking to shake things up the same way Peter Weber did on his season, we suggest these shows!
What/If
Young scientist Lisa is strapped for cash and needs it to fund a life-changing project when Anne Montgomery (Oscar-winner Renée Zelwegger) approaches her with an offer she can't refuse: one night alone with her husband. The only condition: she cannot ask what happened.
The telenovela lasted only one season before ABC canceled it, but it was a sizzlin' drama focused on a forbidden love story and a who-dun-it murder mystery. Two of our favorite things.
Liza, a 40-year-old single-mom struggles to re-enter the working world. But when she meets a 26-year-old guy who believes she's his age, it all becomes so clear as she fakes her age, gets a publishing job, and gets a second shot at her crazy 20s… that is until people start figuring out her secret that she's trying desperately to protect.
The Bold Type
Fashion meets sex on The Bold Type. Three besties — Kat, Sutton, and Jane — are living their best lives in New York City and working for a fashion magazine, Scarlett. As they "push the envelope" in their career, they're also doing it in their daily life as they find themselves, have plenty of sexual experiences, and learn how to be comfortable in their own bodies while feeling as lost as most millennials do.
Sisters Beth and Annie and best friend Ruby get fed up with playing by the rules and constantly losing, so they get a crazy idea to rob a grocery store. One illegal decision suddenly lands them in hot water and starts a dangerous life of crime and even a crime of passion with one sexy "gang friend."
The Affair
The series explores the emotional and psychological effects of two affairs. Newlyweds Alison and Cole are experiencing problems in their marriage and she finds solace in the arms of Noah, a teacher vacationing at his in-laws' Hamptons estate with his family. What starts off as a summer affair quickly becomes much more complicated.
True Blood
Described as the "adult Twilight" and the more intense version of  The Vampire Diaries when it first came out, Sookie Stackhouse, an oddball at school who can read minds, falls for a 173-year-old vampire named Bill Compton. Bill and his vamp clique have joined the land of the living after a new synthetic blood allows vampires to survive without human blood. Sex, lust, and bloodlust all fuel this HBO series.
Elite
A private school in Spain becomes the scene of a murder brought on by a clash between the rich and the poor. The murder mystery begins as no one knows who's responsible, and there's a lot of sexual tension between the good looking students that leads the storyline.
Reality TV Shows
Love Island
In the same vein as many other dating reality shows, Love Island brings together a cast of hot singles ready for love and romance that's fueled on by warm weather on the island and a grand prize of £50,00o.
Married at First Sight
The title of the series is pretty self-explanatory, but in the case that it needs to be explained, a group of strangers looking for love get married to a complete stranger the first time they lay eyes on him/her. They're paired up with the help of a spiritualist, a relationship coach, and a sociologist who use "scientific matchmaking methods." The remainder of the season documents their honeymoon and life after marriage. Following several weeks, the couple gets the option of staying together or splitting up. 
Are You The One?
The tagline of this series is my favorite: if your perfect match was standing in front of you, would you know? A group of singles tries to find their soulmate using a dating algorithm that processes a ton of information including a compatibility test. It then pairs the couples it thinks have the highest chance of success, but it's kept from the participants who instead mingle for weeks and try to find their ideal significant other. If they choose the wrong person, they start over, if they don't, well, love and money are involved.
The Netflix series is a new kind of dating experiment that finds strangers meeting via cubes and falling in love without ever seeing each other. The whole idea is to remove looks from the equation and find your soulmate based on connection alone. If finding someone you vibe with is successful in the pods, the couples get engaged, have a honeymoon in Mexico, and walk down the aisle a few weeks later. Who will say yes? And who will walk away?
Younger Season 6 Report Card: Best & Worst Moments!
Younger had some great moments and some less than great moments on Younger Season 6.
On a broad level, the storylines weren't as fleshed out as they should have been, plenty of story arcs got condensed for the sake of time, the characters weren't as empowered, and the love triangle got pushed so heavily, both Team Josh and Team Charles teams were over it by the finale episode.
But the magic that made Younger the fresh, inspiring, and addictive show is still there hidden under all of that.
We're looking back at the best, worst and funniest moments of Season 6.
Most Frustrating Thing About the Season
The love triangle.
We all dug the Charles vs. Josh conundrum in the show's early days, but we can all agree that Liza's indecisiveness is tiring.
The best thing that can happen come Season 7 is for Liza to make a choice and stick to it.
Funniest Moment
There's never a shortage of funny moments on Younger.
Ironically, two of the funniest moments involved vaginas: Maggie sticking garlic up hers to get rid of a yeast infection delivered plenty of laughs on Younger Season 6 Episode 4 as did Lauren getting her private parts stuck to an ice sculpture on Younger Season 6 Episode 12.
But my personal favorite was Liza's micro-dosing experience.
On Younger Season 6 Episode 6, Liza hallucinated Charles and Josh morphing into one person — it would make things easier for her — and then ballroom danced with both men when in reality, she was dancing with a plant
Read the full post at TV Fanatic!