This season just keeps getting better and better.
Millennial, with Kelsey in tow, dealt with the aftermath of "42-gate" on Younger Season 6 Episode 9.
The publishing world was rocked by Pauline's scandalous revelation that Liza, formerly known as 1 of 2 awesome millennial editors, was, in fact, a 42-year-old woman.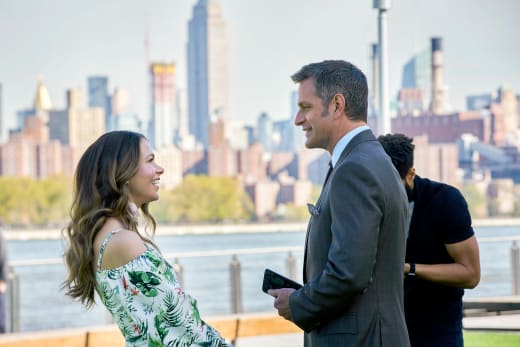 The company was sinking, clients were dropping, authors were fleeting, but they didn't have to be.
This negative reaction could have been prevented with better preparation from Team Millennial.
Since they knew the truth, they were the ones holding all the cards and should have had a contingency plan in case someone exposed Liza.
And there were plenty of people who could have potentially pulled the trigger.
Related: Younger Season 6 Episode 8 Review: The Debu-taunt
Instead, they were trying to catch up with the headlines, which made it harder to change the narrative already painted about the company and its employees.
Zane was the only one with an outside perspective; he wasn't close to Liza, he didn't have any connection to her, nor did he owe her anything.
But his advice to fire Liza also overlooked the negative impact it would have had on the company.
Liza lied because a woman in her forties wasn't granted the same opportunities in the workforce as a thriving woman in her 20s.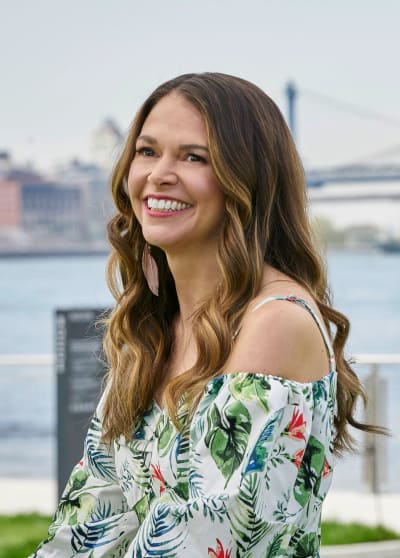 If they fired her, they'd only be feeding into the age discrimination that Liza was trying to combat with her illegal move in the first place.
They'd essentially be proving her point.
Zane was right in saying that Liza lied and made everyone, namely Kelsey and Charles, complicit, but he failed to acknowledge that they all knew about her lie and helped her cover it up.
They lied on her behalf, so in a way, they're just as responsible for Millennial's potential downfall as Liza.
Harboring a secret is equal to assisting someone in harboring said secret.
Read the full review at TV Fanatic!
Follow CRAVEYOUTV on socials
Younger Season 7 Trailer: Does Liza Have a New Man in Her Life?
Younger is ready to turn the final page!
Ahead of the seventh and final season, Paramount+ released a lengthy two-minute trailer that gives fans a glimpse of how it all ends.
The clip opens with a flashback to Charles (Peter Hermann) asking Liza (Sutton Foster) to marry him during the season 6 finale.
But, of course, it's unclear if Liza accepted the proposal as the next scene finds her ex, Josh (Nico Tortorella), and her friend, Lauren (Molly Kate Bernard), wondering if she said yes.
News of the possible engagement spreads fast as Liza's bestie, Kelsey (Hilary Duff), informs her that she "just heard the news," while her other bestie, Maggie (Debi Mazar), laments that she's "impressed" with Charles.
However, Liza doesn't seem to think the proposal was all that romantic, which leads me to believe that maybe the couple isn't headed down the aisle anytime soon.
Especially because the rest of the trailer seems to show trouble in paradise!
And this time, it may not be Josh's fault… though, one scene does show him asking Liza: "if I would have said something sooner, would it have made a difference?"
Liza's always struggled to choose between Charles and Josh, however, there may be a new man taking up residence in Liza's life: surf legend Kai Manning, who is shopping a book at Empirical/Millennial.
And while there's a scene of Liza and Charles kissing underneath the fireworks, there's also some tension as he informs her that he "had to bend a lot" to be with her.
Tension also builds as it looks like Quinn is moving in on Liza's man and Charles may be entertaining the idea!
New relationships seem to be on the horizon as Josh is spotted with a new woman by his side as his baby momma, Claire, returns.
Maggie is also smitten with a woman named Camila.
And elsewhere, Kelsey contemplates her future asking Lauren if she should "go back to Millennial," before informing Quinn of her decision, which the billionaire calls "running home to daddy."
But at the end of the day, the show hones in on the fact that it's about female friendship and empowerment.
"We're women, we're fighters, this is our moment, Liza," Kelsey informs her.
And if the original premise got muddled somewhere in all the love triangles, the trailer reminds you that the series was born to defy ageism in the workplace and in life in general.
"If there's one thing I've learned, it's that age is irrelevant," Liza tells Kelsey.
That's been the lesson since day one!
From the looks of it, the 12-episode final season is going to be one wild ride as it wraps up all the storylines once and for all.
The final season will premiere the first four episodes on April 15.
'Younger' Announces Final Season Premiere Date, Loses Two Series Regulars
It's the beginning of the end for Liza, Kelsey, and Empirical!
Paramount Plus announced that the seventh and final season of Younger will premiere on Thursday, April 15!
The first four episodes will be available for streaming on that day.
The final eight episodes will be released on a weekly basis every Thursday.
Those who don't have access to Paramount Plus will be able to see the full season later in the year on TV Land.
It was also announced that Miriam Shor (the impeccable Diana Trout) and Charles Michael Davis (Zane Anders) will no longer be series regulars.
Per TV Line, the duo will be back in a recurring capacity.
"Due to scheduling and Covid related matters, Miriam Shor and Charles Michael Davis were unable to be season seven cast regulars," series creator Darren Star said in a statement to the news outlet.
"However, they will always be a much loved and integral part of the Younger family and have added so much heart and soul to the series."
Production for the final season was delayed significantly due to the coronavirus pandemic.
However, we know these two will go the extra mile with whatever screentime they do have!
Per the release,
the final season of Younger finds "Liza's (Sutton Foster) personal life is on shaky ground as she tries to stay true to herself. After a setback at work, Kelsey (Hilary Duff) doubts her career decisions and discovers a new creative outlet. Meanwhile, Maggie (Debi Mazar) gets canceled."
Check out the sneak peek HERE!
Related Stories:
Is 'Younger' Ending with Season 7? Hilary Duff Gives the Scoop
Younger Season 6 Report Card: Best & Worst Moments!
Hilary Duff Announces 'Lizzie McGuire' Reboot is Canceled: 'This Is What 2020s Made of'
'Younger' Moving to Paramount+ for Seventh and Final Season – Watch the Emotional Sneak Peek
Younger has a new home.
After six seasons at TV Land, the hit TV show about Liza Miller, a middle-aged, divorced mom who lies about being twenty-something to restart her career in publishing, is moving to Paramount+.
ViacomCBS made the announcement during the streaming presentation on Wednesday.
Paramount+ is a new streaming service that will replace CBS All Access. on March 4.
The base tier will cost $5 and include ads. For ad-free streaming, the monthly price will set you back $10.
Now, that doesn't seem like a lot, but if you're an avid TV watcher, adding yet another streaming service to your monthly bundle might not be totally feasible.
Is 'Younger' Ending with Season 7? Hilary Duff Gives the Scoop
The good news is that the 12-episode final season will also air on TV Land. The catch? It will run delayed likely after the series wraps, which means you might not avoid spoilers.
Pick your battles, I guess.
The move, while annoying for some, isn't completely out of the blue. The series was supposed to the Paramount Network for its sixth season but ultimately stayed at TV Land.
With such a dedicated fan-base and so much potential, it doesn't seem like 12 20-minute episodes are going to provide a satisfactory conclusion. And I don't think I'm ready for Liza to finally choose between #TeamJosh and #TeamCharles permanently.
The seventh season was initially delayed due to the COVID-19 pandemic, but the cast has been busy filming in New York as of late.
And that's why fans were able to get a sneak peek at the upcoming season:
As Liza says, "embrace the past, accept the present, and keep moving forward."
While it sure does seem like Liza picks Charles in the end, Sutton Foster promises that the final season will bring "all the emotional, all the laughs, and all the drama defined Younger and have made it the success it is."
The series stars Foster, Hilary Duff, Nico Tortorella, Debi Mazar, Miriam Shor, Molly Bernard, Charles Michael Davis and Peter Hermann.
Back in March, it was announced that Duff would be getting a spinoff based on her character Kelsey Peters.