Has anyone ever heard of the bad pancake theory? I hadn't either but apparently it's the idea that the guy you date after a relationship is like a burnt pancake. You have to use them and ditch them until you're finally ready to make that perfect last pancake. Pretty sound right?
This week on Younger, Kelsey thought she found her perfect pancake on her online dating app, but the guy looked almost too good to be true. Turns out, he was. When she found out that he lived on Roosevelt Island, he went from the perfect pancake to the bad pancake stat. I'm not from NY so I didn't understand what that meant but to Kelsey it meant it was time for a "tram slam," which I guess is millenial for hit it and quit it. She waved goodbye from the tram but something tells me, we haven't seen the last of Lucas.
Back at the office, Bryce goes a bye-bye after Charles finally snaps and has enough of his "distruptions." Even I could tell that he isn't fir for Empirical. While Bryce did add some funny moments to the show, his character seemed a little too over exaggerated. Sure, print books might not be the hottest thing anymore but the notion that they are dying and that you should rewrite classics for an app was a little too much for everyone, including me, a millenial. However he did have some good points, one of them being that Diana needs to loosen up. I felt so much better when she came strolling in in jeans.
With Bryce being gone – hopefully for good – the financial future of the company is questionable again. But regardless, Charles is happy with his decision and Liza commends him for standing up for what he believes in. Their encounter proves even more that she's got deeply rooted feelings for him that she's not willing to admit to.
I think Liza will be pushed even further towards Charles after witnessing Josh so curious about how pregnancy works. When he asked if she'd ever "catch a [baby] cold" again, she was definitely taken aback. I don't think Josh realizes that she's 40… and while I know 40-year-olds can have kids, Liza is clearly way passed that, especially since her only child is in college and she was finally able to get her life back. In fact the reason she's been pretending to be 28 is to get her pre-child life back. Although isn't it funny that a 40-year-old woman can do a job just as well, if not better, than a millenial and even adapt to their culture?
Do you think the children issue will be a dealbreaker for them? Josh always said he didn't want kids but guys are always a little behind which means he could be getting comfortable with the idea now. Liza won't want to hold him back and this could be their breaking point.
As for Maggie, she met a hot new woman that wasn't her usual type but she felt a total connection. I love that Maggie can just be herself and pursue whoever she has an emotional and sexual vibe with. We'll see how this progresses and if Lauren will be jealous, even though she's dating a doctor now.
How do you think Empirical will function without Miller's money? Will Josh and Liza break up? Will Liza finally admit her feelings for Charles cannot be ignored? Will Diana ever find the plumber again?
Younger – Millennial's Next Top Model (6×09)
This season just keeps getting better and better.
Millennial, with Kelsey in tow, dealt with the aftermath of "42-gate" on Younger Season 6 Episode 9.
The publishing world was rocked by Pauline's scandalous revelation that Liza, formerly known as 1 of 2 awesome millennial editors, was, in fact, a 42-year-old woman.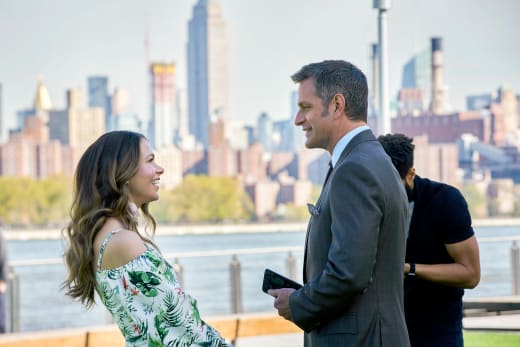 The company was sinking, clients were dropping, authors were fleeting, but they didn't have to be.
This negative reaction could have been prevented with better preparation from Team Millennial.
Since they knew the truth, they were the ones holding all the cards and should have had a contingency plan in case someone exposed Liza.
And there were plenty of people who could have potentially pulled the trigger.
Related: Younger Season 6 Episode 8 Review: The Debu-taunt
Instead, they were trying to catch up with the headlines, which made it harder to change the narrative already painted about the company and its employees.
Zane was the only one with an outside perspective; he wasn't close to Liza, he didn't have any connection to her, nor did he owe her anything.
But his advice to fire Liza also overlooked the negative impact it would have had on the company.
Liza lied because a woman in her forties wasn't granted the same opportunities in the workforce as a thriving woman in her 20s.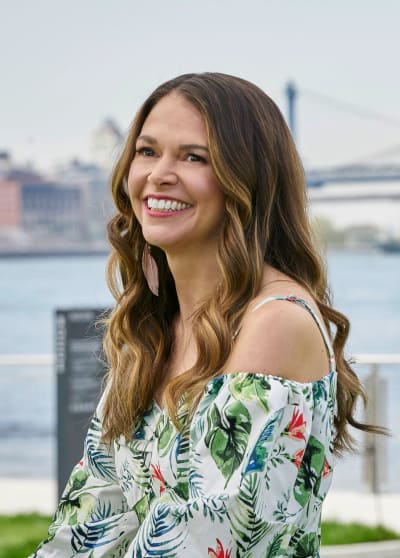 If they fired her, they'd only be feeding into the age discrimination that Liza was trying to combat with her illegal move in the first place.
They'd essentially be proving her point.
Zane was right in saying that Liza lied and made everyone, namely Kelsey and Charles, complicit, but he failed to acknowledge that they all knew about her lie and helped her cover it up.
They lied on her behalf, so in a way, they're just as responsible for Millennial's potential downfall as Liza.
Harboring a secret is equal to assisting someone in harboring said secret.
Read the full review at TV Fanatic!
Younger – The Debu-taunt (6×08)
What a big, emotionally-loaded episode.
The cast of Younger wasn't lying when they said Younger Season 6 Episode 8 was the episode we've all been waiting for.
If you're not crying happy tears after Liza's and Diana's "I love you" exchange, you have no soul.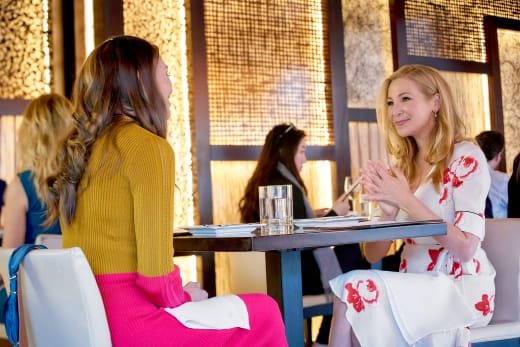 We've all been so focused on Younger's love-triangle, but the magic has always been in the relationships between the female characters.
Liza's secret unraveled at a rapid pace and by the end, we were all in a different space mentally, physically and emotionally.
For the most part, everyone was in a better, more honest place, even if Millennial is stuck going through an identity crisis.
Diana was one of the last remaining Empirical/Millennial employees who was kept in the dark about Liza's real age, and we all wondered when and how she'd find out the truth.
I knew that when it happened that it was going to be intense, but I had no idea it would be such an emotionally raw moment.
Related:  Younger Season 6 Episode 7 Review: Friends with Benefits
Diana rarely wears her heart on her sleeve, but when Pauline pubically tore down Liza, she put her foot down against the alleged slander and came to her assistant's defense.
One might say it's wildly out of character for Diana to be so bold since we've never seen her defend someone so passionately, but it really wasn't.
Diana loves her co-workers under her icy exterior and she'd do anything for them.
Read the full review at TV Fanatic!
Younger – Merger, She Wrote (6×06)
Someone pass the tissues because Younger Season 6 Episode 6 had me in tears from both laughing and crying.
What a work out in 23 minutes!
The mix of a comedic and heartfelt made this the best episode to date.
My expectations were high after seeing Peter Hermann and Nico Tortella tease the episode as the one "we've always wanted to happen."
And the moment I heard the words retreat, I knew it was going to go down.
All of the craziest things have happened at retreats and that was when microdosing (taking small amounts of drugs) wasn't involved.
Add drugs and the fact that Liza's there with her ex and a current boyfriend who she's feuding with, well, what could go wrong?
I don't condone the use of drugs, but man, it was so hilarious to see her hallucinating.
There was no shortage of funny moments: Josh and Charles merged into one person, Charles spoke using Josh's voice, and Liza danced with a plant.
That last one is going down as one of the show's most iconic moments.
While I'm not a fan of continuing the love triangle, if we have to endure it, this was the most interesting way to go about it.
With the added layer of not-LCD, my interest was piqued.
What would come of their heightened reality, open mind, and unlocked unconsciousness?
Related: Younger Season 6 Episode 4 Review: An Inside Glob
Apparently, the only realization that Liza had was that she's still torn between Josh and Charles. Go figure.
Now, I'm in no way complaining about Liza's dance routine because they got to incorporate Sutton Foster's real-life talents into it in a way that felt authentic and fun to the story, but I wish her altered state allowed her to finally settle for one.
Flipping between Josh and Charles in bed was great, but at some point, the show has to reign in on one and let the other one go.
At this point, I don't even care which guy she ends up with, I just can't keep bouncing back-and-forth.
Especially because it does seem like Josh has finally accepted Liza's new relationship and even bonded with Charles while she was otherwise occupied.
After the retreat, Charles mentioned that he had a good chat with Josh, which convinced him to fight for his family at Millennial.
Read the full review at TV Fanatic!