Younger is finally back ya'll!
The highly anticipated 4th season premiered last night but it wasn't filled with its usual late-night deceit.
Liza's absurd, but understandable lie, has been trickling out over the past few seasons. Josh was let it on her secret and at first, found a way to cope with it but eventually came to the conclusion that once a fraud, always a fraud.
After seeing how her lies were hurting everyone, she decided to come clean to her best friend Kelsey and her timing may have been a little off. Kelsey just lost her BF, a place to stay (Lauren kicked her out to make room for Max) and now everything she thought she knew about Liza was flipped upside down. "I don't understand," Kelsey replies, which forces Liza to launch into the truth – she was forced to lie about her age to secure a job in the publishing world after making a decision to be unemployed for several years to raise her now college-enrolled daughter. Sprinkle in a cheating husband in there to add some real flavor. to take care of her now-college enrolled daughter.
And while any sane person could understand why the 40-something-year-old would choose to masquerade as a mid-twenty-year-old, Kelsey just couldn't let it go. At work, she played it cool but made it very clear that their "personal" relationship was no more and things would remain professional.
Hoping to keep the momentum going, Liza was about to out herself to both Diana and Charles when Kelsey stopped her. If she tells the truth, Millenial's credibility would be ruined and with everything else going wrong, she cannot afford to loose her imprint. Kelsey's anger is understandable but putting her imprint and herself first makes her a hypocrite as she just scolded Liza for selling a book to "keep her secret," saying she "only cares about herself."
Kelsey decided to call in Lauren to help Liza create "her truth." She didn't have to come clean, she just needed to change the narrative and that included, building up a social profile, which would squash any doubt about her age because as you know, Google does not lie.
Using Emily's own blackmail against her, Kelsey gives her an ultimatum – either she gets them on the elite "29 under 29 list" or she pulls the plug on her book, making sure she won't be able to find another publisher. And just like that, the girls are having a field day with the press, promoting Millenial, which obviously makes Liza feel like an even bigger fraud.
How long will she be able to keep up this charade? It's been working out in her favor for awhile but clearly, the minute people realize what she's been doing, they don't feel very sympathetic to the cause. Although it should speak volumes to the workplace for women of age. The secret she's harboring is the crux of the show so once revealed, it would change the dynamic drastically. Is that a bad thing though? Younger is not the show it started out being – the characters have grown, their learning and evolving and without that element of secrecy, we would finally be able to watch Liza learn the rules of social media and publishing as a middle-aged woman. It would definitely be more empowering than it is right now for her, trying to really convince herself and pretend that she's someone she isn't. Right now, Liza and co. are living in a fantasy-world that we love to live vicariously through because it's so forbidden but there's still an exciting chapter of being honest to explore, which I think fans will enjoy because it's all about learning to live your truth and owning up to it.
Obviously, the truth would also change her relationships. That's already happened with Josh and Kelsey but it would be the biggest change for Charles, who obviously harbors feelings for her. It hasn't bothered him that he's hit on his younger employee, which could be frowned upon. There is this unspoken attraction and when he finds out that she called off the proposal with Josh, he swoops in taking her to a Hemingway gallery, just to impress her. It's funny that he hasn't realized he has so much in common with her because they are the same age. But will those feelings change once he knows the truth? Will he be able to forgive her?
Aside from the possibility of Liza's secret coming out, the other most intriguing part of this season will be Kelsey's new relationship with Josh. Both of them have Liza and her lies in common, which will draw them closer together. She's already his new roommate but will she be more? Will both of them drown their sorrows and broken hearts in each other? Would Kelsey actually do that to Liza? I'm going to say yes because it seems like she's pretty upset by this reveal and if she were to find out Liza's been keeping her "fling" with Charles a secret too, would most likely retaliate.
Thoughts on the first episode? Will Liza finally pop the truth balloon? Will it ooze out in a calm, collected manner or simply blow up in everyone's face?
And will Lauren please stop insinuating that assault (sitting on a nocturnal erection) is ever okay. Even with innocent intentions, there should not be "rape is ok" jokes nor should there be scenes that basically ignore the rules of consent with a "no means yes" outlook that encourages rape culture. Do better Younger. You have a show that's young, vibrant, insanely addicting and relates to millennials equally as it does to the Gen Xers, don't screw it up with bad judgments and poor taste now.
Younger – It's All About the Money, Honey (6×10)
Another day, another PR nightmare for Millennial.
Kelsey, Liza, and Charles visited my hometown of Chicago on Younger Season 6 Episode 10, but things weren't exactly a breeze in the Windy City.
The trip was high-stress from the beginning as Kelsey and Charles attempted to sway their last remaining investor in to keep the company afloat.
They're broke now, remember?
Charles took charge in the male-dominated meeting, but Kelsey flexed her publisher muscle by explaining that Millennial's main asset is their ability to keep up with the times. Sometimes, a little too much.
There was a mention of transparency, which was worrisome considering Millennial's lack of transparency when it came to Liza's lie.
However, it wasn't something the investors, all older men, would have been made privy too.
As they pointed out in the meeting, they didn't understand the power of social media or how it could make them money, so chances are they didn't Google to read up on Millennial's recent hiccups.
But they got a very detailed lesson on social media courtesy of Kelsey.
After securing the funding, Kelsey and Charles' celebrations were short-lived as they were plagued by another social media snafu, this time not one of Liza's making.
Younger – Millennial's Next Top Model (6×09)
This season just keeps getting better and better.
Millennial, with Kelsey in tow, dealt with the aftermath of "42-gate" on Younger Season 6 Episode 9.
The publishing world was rocked by Pauline's scandalous revelation that Liza, formerly known as 1 of 2 awesome millennial editors, was, in fact, a 42-year-old woman.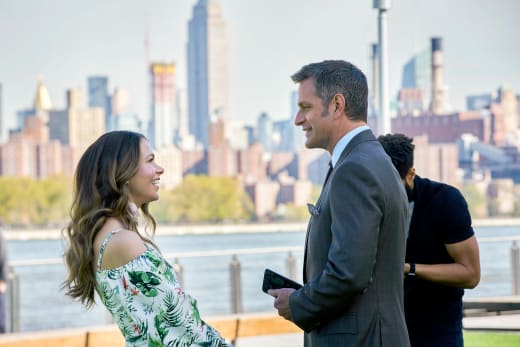 The company was sinking, clients were dropping, authors were fleeting, but they didn't have to be.
This negative reaction could have been prevented with better preparation from Team Millennial.
Since they knew the truth, they were the ones holding all the cards and should have had a contingency plan in case someone exposed Liza.
And there were plenty of people who could have potentially pulled the trigger.
Related: Younger Season 6 Episode 8 Review: The Debu-taunt
Instead, they were trying to catch up with the headlines, which made it harder to change the narrative already painted about the company and its employees.
Zane was the only one with an outside perspective; he wasn't close to Liza, he didn't have any connection to her, nor did he owe her anything.
But his advice to fire Liza also overlooked the negative impact it would have had on the company.
Liza lied because a woman in her forties wasn't granted the same opportunities in the workforce as a thriving woman in her 20s.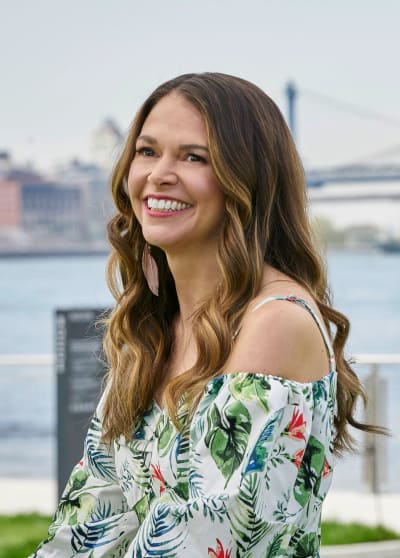 If they fired her, they'd only be feeding into the age discrimination that Liza was trying to combat with her illegal move in the first place.
They'd essentially be proving her point.
Zane was right in saying that Liza lied and made everyone, namely Kelsey and Charles, complicit, but he failed to acknowledge that they all knew about her lie and helped her cover it up.
They lied on her behalf, so in a way, they're just as responsible for Millennial's potential downfall as Liza.
Harboring a secret is equal to assisting someone in harboring said secret.
Read the full review at TV Fanatic!
Younger – The Debu-taunt (6×08)
What a big, emotionally-loaded episode.
The cast of Younger wasn't lying when they said Younger Season 6 Episode 8 was the episode we've all been waiting for.
If you're not crying happy tears after Liza's and Diana's "I love you" exchange, you have no soul.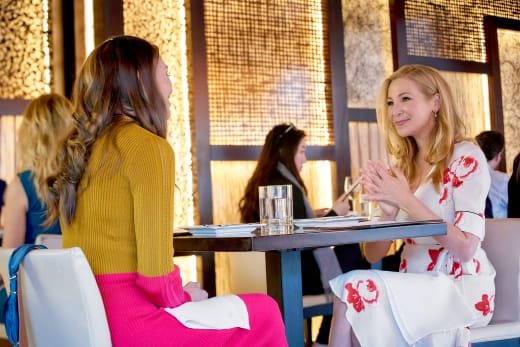 We've all been so focused on Younger's love-triangle, but the magic has always been in the relationships between the female characters.
Liza's secret unraveled at a rapid pace and by the end, we were all in a different space mentally, physically and emotionally.
For the most part, everyone was in a better, more honest place, even if Millennial is stuck going through an identity crisis.
Diana was one of the last remaining Empirical/Millennial employees who was kept in the dark about Liza's real age, and we all wondered when and how she'd find out the truth.
I knew that when it happened that it was going to be intense, but I had no idea it would be such an emotionally raw moment.
Related:  Younger Season 6 Episode 7 Review: Friends with Benefits
Diana rarely wears her heart on her sleeve, but when Pauline pubically tore down Liza, she put her foot down against the alleged slander and came to her assistant's defense.
One might say it's wildly out of character for Diana to be so bold since we've never seen her defend someone so passionately, but it really wasn't.
Diana loves her co-workers under her icy exterior and she'd do anything for them.
Read the full review at TV Fanatic!