There are a handful of ships on Riverdale that make fans go wild, but when it comes to Betty, you're either team #Bughead or team #Barchie.
While #Bughead had some really fantastic moments, many fans will argue that #Barchie was always meant to be — I think the proper term for that is "soulmates"!
In celebration, we're looking back on a few of Betty and Archie's steamiest moments on Riverdale!
Season 4 Episode 15 — "To Die For"
Fake dating? Don't have to ask them twice. When Jughead fakes his death in order to solve the Stonewall Prep mystery, Betty and Archie pretend to be a couple. And in order to sell it to everyone, they share a kiss in the music room. But the only people they seem to be fooling are themselves because there's so much chemistry and feelings wrapped up in that one moment that they begin to question everything.
Season 4 Episode 17 — "Wicked Little Town"
Okay, so fake kissing almost always leads to real kissing. Betty and Archie learned that the hard way when they locked lips for real in the musical episode. While practicing a song together — a ballad that Archie wrote for Betty, nonetheless — they share a passionate smooch (one of television's finest!), but since they are both in committed relationships, (er, Jughead and Veronica, anyone?) the guilt consumes them and they decide that being friends is the best course of action… for now. That's the perk of knowing the future, you know that they will end up together when the time is right. And timing, as they say, is everything.
Season 5 Episode 5 — "Homecoming
Okay, this may have been the absolute hottest scene between Archie and Betty like… ever. After several seasons, Riverdale finally gave fans the Betty and Archie moment they've been waiting for. The long-awaited and frankly highly-anticipated moment finally came via a steamy shower sex scene following a seven-year time jump. It was so hot that I found myself wondering if this kind of thing is even allowed on The CW. That steam wasn't from the hot shower, that's all I'm going to say! When these two reunited, sparks flew and caught fire.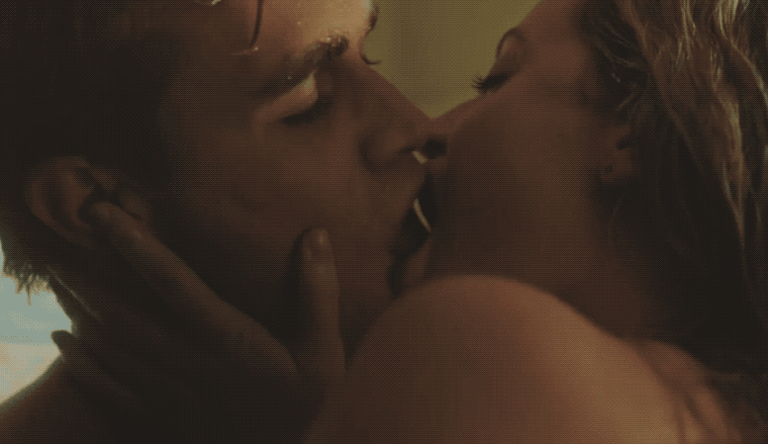 Season 5 Episode 6 — "Unbelievable"
The Titanic hook-up that's worthy of its very own Oscar! While things may not have ended so well for Jack and Rose, the odds are faring slightly better for Betty and Archie (aside from the whole bomb going off under the bed and creating some alternate dimension that has given them superpowers thing). The couple finally gave romance a try as adults, and since then, they haven't been able to keep their hands off of each other. The video is a lot, but hey, that's why you're here, right?
Season 6 Episode 17 — "American Psychos"
Okay, hear me out — passion and intimacy don't always have to be physical. It can be in the emotional, in the exchange of "I love you's" and the realization that the person you're with sees the parts of you that you don't see in yourself. All six seasons have been building up to this moment!
As Betty questioned whether her darkness was too consuming to allow her to be in a happy relationship with Archie, he reminded her that he knows exactly who she is and has always loved her for it. She's been so focused on the incident with her cat that she totally forgot about the time she saved a bird with Archie. Not only is it a reminder that darkness doesn't define her, but it's a reminder that they were friends before they were lovers, which ensures that they have an intimate and unbreakable bond. The relationship has been a long time coming, but it was always the right one. Even Veronica acknowledged it.
"I love you Betty."
"I love you too Archie."

Six seasons and one hundred and twelve episodes later and Archie Andrews finally told Betty Cooper he loves her!

6.17 © The CW – #Barchie #Riverdale pic.twitter.com/RrJ1HLfAQm

— BarchieScenes (@barchie_scenes) June 13, 2022
What scenes would you add to the list?
Follow CRAVEYOUTV on socials
When Does Jay Halstead Leave 'Chicago PD'?
Jesse Lee Soffer, who brilliantly brought detective Jay Halstead to life for 10 seasons on Chicago PD, was written out of the series on Chicago PD Season 10 Episode 3, which aired on Wednesday, Oct. 5. You can read the review here!
The following post was written before Season 10 Episode 3 aired:
Halstead has been with the franchise from the beginning, making several appearances on PD's sister shows, Chicago Fire and Chicago Med, so his departure is an emotional one for fans. Many viewers have long felt that he's the glue holding Intelligence together, and he's definitely the heart of the team, ensuring that Voight (Jason Beghe) stays in line. Some even thought he would be the one to take the reins from Voight upon his retirement, so Soffer's decision to leave has come as quite a shock.
Naturally, fans want to know how he's going to leave the team, the series, and his wife Hailey Upton (Tracy Spiridakos), along with when it's going to happen. We'd rather plan accordingly than be blindsided!
While there's not much information about the events surrounding his departure, the series is building up to it with the season 10 premiere setting up a conflict between Halstead and Upton, which bled into the second episode of the season. The way things are between them this season isn't what fans are used to from this couple; it's not "us" as Upton pointed out. And it's not like Halstead to lie to Upton or buddy up with Voight.
Voight made sure to underscore that their personal feelings cannot affect the job anymore in the premiere, noting, "If it ever shows up on the job again, the three of us, we're not working together anymore, understood?" as Upton informed him that if he keeps up his rogue behavior, he's going to lose Jay.
However, one could argue that Halstead's loyalty to Voight also makes sense as he previously asked his sergeant to be upfront with him about any rogue decisions before they happen so he can help out. Maybe that's what's happening here, and Halstead is lying to Upton to protect her so that she's not dragged into it again.
Some fans have suggested that it's possible Voight is trying to help Halstead get a new job, though, I'm not convinced that he would just choose to leave his wife to pursue a different life path without her input.
And while Halstead's motives may seem questionable for now, showrunner Gwen Sigan assured TV Insider that "it's going to make sense to the fans when they see the episode that is his exit. We wanted it to be really a showcase for Halstead and who he is and what Jesse has meant to this show," adding that Soffer's performance is "one of his best."
It seems like it's a real possibility that Chicago PD Season 10 Episode 3 airing on Wednesday, Oct. 5, might be the end of the road for our loyal detective, if not a clear sign that it's the beginning of the end.
The promo for the episode starts off with menacing music as Halstead, in civilian clothes, explains, "I'm here to tell the truth."
"One bad act doesn't make you a bad person," he continues, sounding pretty guilty about something from his past. It's also possible he's vouching for Voight, who he's been supportive of since Anna died.
Halstead has always been the voice of reason who sometimes has to do bad and immoral things to protect the ones he loves. The line of duty comes at a cost, and maybe it's one he's no longer willing to pay.
The teaser attempts to keep things suspenseful with the text overlay reading, "For Someone, This Is the End," which points right to Jay as we all know he's leaving. And the ending, which shows Hailey in tears as she looks at Jay in disbelief, seems to seal the deal.
This could very well be Jay's final episode. It's possible he confessed to everything and there's no going back to Intelligence. Maybe he took the blame for what went down with Anna to further protect Upton and his team and clear his conscience?
If you're not ready to say goodbye just yet, there is a glimmer of hope still as a few fans pointed out that Soffer was spotted filming recent episodes, and since he's departing sometime in the fall, it would likely put his exit at possibly episode 8 or 9 of the season, and in that case, something major must happen in episode 3 that likely puts Halstead on a path that he's going to realize he can no longer walk on.
And, as one fan pointed out, his exit, whatever it may be, will bring his character-arc full circle because he's about to do to Hailey what Erin did to him all those years ago.
Sagan suggested that Halstead's exit will throw Upton for a loop, which does kind of sound like there's a falling out between the couple. Or maybe Halstead has just realized that he needs to start putting himself first for a change.
Either way, it's hard on Upton: "Upton is going to have some fallout, yeah. It's a tough place for her to be in. She is just so connected to Halstead who not only is her husband but also her partner. They are so so threaded together in their lives and so to see her on her own and have to navigate that—she certainly gets into some really interesting territory this season as she's trying to navigate that. She's someone that's not necessarily the best at dealing with her emotions. She likes to be in control and likes to feel like she has control of her headspace," Sagan clarified.
Hopefully, as they wrap up Halstead's storyline and do his character justice, they'll also give fans one more Halstead brothers moment with Will on Med. We deserve it!
Only time will tell what Halstead's exit will truly look like, but one thing is for certain—it will be devastating to longtime fans nonetheless.
11 New Movies & TV Shows to Watch Right in Time for Halloween
This is Halloween… so be ready for a fright.
The best way to celebrate spooky season (aside from with a pumpkin spice latte in hand) is with bone-chilling movies and TV shows. Thankfully, there are plenty coming at you this year ahead of Halloween.
From family-friendly choices to new installments of beloved classics, here's a list of all the Halloween movies and TV shows of 2022:
Halloween Ends – Theaters/ Paramount+
Laurie Strode and Michael Myers face off one last time in the final installment of the Halloween franchise. See how it all goes down when the film hits theaters on October 14. It will also be available for streaming on Peacock.
Chucky (Season 2) – Syfy
Fans were absolutely taken with the first season of Chucky on Syfy, making a second season a guarantee. And after that jaw-dropping cliffhanger, you're going to want to see what happens next when the murderous doll returns for more mayhem on October 5.
Wednesday – Netflix
Fans of the Addams family can enjoy a reimagining that focuses on Wednesday Addams played by Jenna Ortega, who truly embodies the Burton-esque essence of the character. The Netflix series also stars Catherine Zeta-Jones and Luis Guzmán as Morticia and Gomez Addams. No premiere date has been announced just yet, but expect it to arrive sometime in the fall.
Hocus Pocus 2 – Disney Plus
Sisstaaaaas! It'll be a glorious morning when the Sanderson sisters (Bette Midler, Sarah Jessica Parker, and Kathy Najimy) rise again to reign terror on a new lot of children that light the Black Flame candle in Salem. The sequel to the beloved 1993 original has been a long time coming, which makes it that much more exciting.
Cabinet of Curiosities – Netflix
Step aside, American Horror Story. The new horror anthology comes from the mind of Guillermo del Toro and features a star-studded cast including Andrew Lincoln, Sebastian Roché, Rupert Grint and more. It's based on a short story of the same name and features eight unique live-action stories meant to challenge our traditional notions of horror. Start streaming on October 25.
The Midnight Club – Netflix
The horror mystery-thriller hails from the minds of Mike Flanagan and Trevor Macy, the duo that gave you The Haunting of Hill House and The Haunting of Bly Manor, so you know it's legit. It follows a group of eight terminally ill teens living in hospice that entertain each other with life-like horror stories and make a pact that the first person to die will come back and haunt them. It arrives on October 7.
Ghosts (Season 2) – CBS
There's nothing creepy about Ghosts, the 20-minute sitcom comedy about a young couple who inherits a mansion and realizes it houses the ghosts of all those who have died on the property. However, it's a fun concept that definitely taps into the "after-life." Come season 2, we'll see all the antics that come with Sam and Jay officially opening the B&B. The new season returns on September 29.
Jeepers Creepers: Reborn – Theaters
The film will serve as a reboot of the 2021 cult classic, though, it's not connected to the original in any way. Sydney Craven's Laine premonitions and visions of the Creeper are timed perfectly to when the town begins to prepare for its first horror fest. The film will have a limited theatrical run from September 19 through September 25.
Interview with a Vampire – AMC
The upcoming American gothic horror drama is a small-screen adaptation of Anne Rice's 1976 novel of the same name. It will sink its fangs into Louis de Pointe's (Jacob Anderson) epic story of "love, blood, and the perils of immortality" with Vampire Lestat (Sam Reid). It premieres on October 2.
The Curse of Bridge Hollow – Netflix
The Halloween comedy teams Marlon Wayans with Stranger Things star Priah Ferguson as a father-daughter unit forced to save their town after an ancient and mischievous spirit causes the decorations to come to life. Also starring Kelly Rowland, it hits the streamer on October 14.
Spirit Halloween: The Movie
We've all shopped at a Spirit Halloween store, but what if we got trapped in one overnight? That's what the new film explores, but unfortunately for the kids hoping to enjoy a night of mischief and adventure, they end up haunted by an "angry evil spirit" (Back to the Future's Christopher Lloyd) who is possessing all the toys inside the store. You can start streaming on your favorite VOD platform on October 11.
Bonus:
The Imperfects – Netflix
Since the series premieres on September 8, we're adding it as a bonus. The fantasy horror finds a group of teens hunting down a scientist, whose experiments gave them monstrous side effects.
8 TV Teachers That Deserves a Gold Star
With the end of summer comes the start of the new school season. (And new TV season, but we're not really diving into that right now!)
As plenty of students groan at the idea of returning to the classroom, parents are likely finding themselves breathing a sigh of relief that the teachers will be taking over from 9-5. And these teachers deserve the world for cultivating young minds with all the necessary skills and education to survive in the real world and thrive!
Ahead of the 2022-2023 school season, we're nominating some of our favorite and most-memorable teachers that we know are bound to make any school year more exciting.
To be honest, we're just jealous they weren't our teachers in real life, but we're glad these TV shows—both new and old— are allowing us to attend their class anyway!
Abbott Elementary Staff
The teachers at Abbott Elementary are hands-down the most caring and inspirational. They don't have much, but they pour themselves into the school and its children. They are passionate about the work that they do, they navigate every roadblock that comes their way, and they show up day in and day out with creative ideas and new approaches to help ensure that students are getting the most out of their school day. Janine, Gregory, Melissa, Barbara, and Jacob are the best of the bunch.
Mr. Feeny – Boy Meets World
'90s kids know there was no better teacher—on TV or in real life— than Mr. Feeney. William Daniels brought so much care and wisdom to the role. He was a role model, a mentor, and a friend that guided Cory Matthews and his friends throughout every single moment of their adolescence. We've all applied the teachings and advice of Mr. Feeny to our everyday lives, including his most important lesson: "do good."
Cory Matthews – Girl Meets World
Mr. Feeny was so inspirational that when Cory became an adult, he followed in his footsteps. In Girl Meets World, the follow-up to Boy Meets World, Cory becomes a history teacher in hopes of guiding another generation using the same world-life lessons and mentorship that he received from Mr. Feeny.
Jessica Day – New Girl
Zooey Deschanel's character was largely defined by her quirky behavior, but it's also what made her such a promising middle school teacher at Coolidge Middle School. She was creative, sang a ton of songs, and really nailed the teacher aesthetic. She was also meant to be a nurturer as she later takes on other roles within the education system like substitute teacher and principal.
Liz Ortecho – Roswell, New Mexico
Teacher by day, alien scientist by night, there's a lot you can take away from Liz's classroom. While she didn't spend too much time in the teaching role after getting sidetracked by the supernatural stuff (saving the world with her science and all that), Liz was passionate about helping her students learn science in a fun way and making sure each one of them succeeded. If—
after all is said and done
— she decides to stay the course, those Roswell kids will be lucky to have her.
Lily Aldrin – How I Met Your Mother
Lily's kindergarten stories are relatable, not to mention they make for some funny moments throughout the series, including how she attempted to pick a baby name not connected to any of the bad students in her class. But overall, Lily's quirkiness, energy, and motherly presence would make her a teacher we'd want to have.
Alaric Saltzman – The Vampire Diaries/Legacies
Mr. Saltzman would never punish you for missing class because he knows there might be something more important at play like taking down an evil vampire hellbent on destroying the world. Alaric started off as a cool teacher that became buddies with his students, but when he had kids of his own, he became a father figure to many. Though he may have felt like he was always putting his students in danger, the reality is that he gave them a home to embrace their authentic selves. He accepted them, uplifted them, and inspired them to be better. There was never a dull moment, they were always learning something, and his passion for history and the supernatural was inspiring. Everyone in the TVD universe was lucky to have him.
Haley – One Tree Hill
Haley was born to be a teacher. Not only did she want to pursue the profession, but even in high school, her nickname was "Tutor Girl" because she tutored her peers to help them succeed, including Nathan Scott. When she became a teacher at Tree Hill High, she believed in her students and went above and beyond for them so much so that when she got fired they rallied to have her reinstated. She's one of those teachers you'll remember fondly years later.